Name: Kiyouri Rin
Age: 20
Gender: Male
Height: 6"1'
Weight: 154lbs
Personality:
He initially stays quiet unless he deems it necessary to talk. He likes to joke alot but ony around people he likes or trusts as friends. He is very analytical and will not get into unnecessary fights unless he thinks it's worth it. He enjoys the company of others but also like solitude when thinking or busy with work. Because he wants to be ninja he constantly trains and studies different ways of using techniques. When he isn't with people he is training his body and mind to become the ultimate fighter. Written tests do not appeal to him so he never really finds interest in answering the questions correctly even if he knows the answers.
Appearance:
-Hair
Color: Black
Length: Down to the Shoulders (Like Orochimaru's just alittle longer)
Style: Straighten down (Like Orochimaru's)
-Eyes:
Color: Unusally Green
-Head:
Perfectly Fine shaped head nothing unsual
-Scars/tattoos:
(Unless he takes his shirt off) Kiyouri has a tattoo of a dragon on his back and it take up his entire back. The funny thing about the dragon tattoo is that it has two tails and each tail wraps around his arms.
-Body:
Kiyouri is an agile person who perfers speed over raw power so his body type is smaller. He is muscular but his muscles are small and come from alot of acrobatic practices which allows him to pull off moves easy.
-Clothes:
He wears a outfit like gaara does when he was in the desert.
Here is the picture: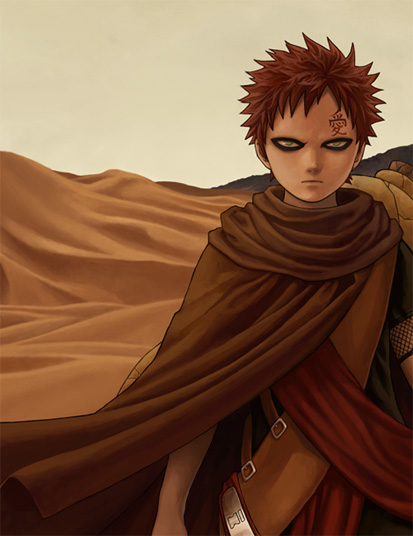 It is worn from travel.
Strenght
Speed
Health
Chakra Control
STR = 5,000 (+1000 Granted)
SPD = 5,000
HTH = 5.000
CTR = 6,000
Level/Rank: Repeating Academy Student
Village: Leaf Village
Fighting Style: Kiyouri will not fight unless he knows he will be able to win. When approached to fight he will either walk away or waste no time in taking that person down. If cornered he will buy time to find ways to beat the enemy and once he does end the match quickly.
Jutsus:
A selection of Jutsu that you'd like to use. This must be appropriate
for your rank and skill set. Academy students have access to all the
E-ranked jutsu. A particularly experienced or talented student may have
one or two D-ranked jutsu. Nothing too powerful, though.
Remember that everyone has all the E-rank jutsu, so don't bother adding them.
//Basic Academy Jutsus (Have yet to Obtain These):
//Rank: 3 E 1 D
//Description: Konoha Senpuu, Replacement Jutsu, Katon Housenka(small fire balls jutsu), Transformation Jutsu
Background: Originally born outside of Konoha he was brought to Konoha by Azuma who found a place for him to stay. From there Azuma trained him a long side Shikimaru. After he hit the age of 13 he left on his own free will to explore different areas including different village in hopes of finding out where his parents were. He made it to the sand village to find out that his parents had recently left the village on a mission. He went in search of where they went on the mission. When he finally arrives to the area specified he finds himself in an area he didn't recognize. The area was a giant forest completely covered in fog with extremely saturated air that could almost drown someone. As he continued walking through he heard sounds of clashing and knew that it had to be his parents that were battling someone. He slowly made his way to the sounds of clashing weapons and explosions. When he finally got to the sounds they immediately stopped and for a second it was dead quiet. Suddenly the sound of a body falls to the ground right in front of him and he looks like a ninja with the head band of sound. He is breathely instensily and in obvious need of medical attention. Kiyouri moves down and looks at this person's face to see a man laying there breathing heavily and as he looks into his face he sees himself and drops to the ground silently saying, "Father? Please don't let this be my father." The man looks up at him and says, "Son?" He begins to cough up blood and then dies. Feeling sorrow he closes his father's eyes, stands and walks forward. He begins to hear laughter echoing. As he continues to he notices that there is now puddles of water everywhere. When he thinks he will never find his way the fog begins to slowly fade away and Kiyouri looks down to see that the puddles of water weren't puddles. It was an entire body of water that he was walking on but it was moving almost in a Jelly like fashion. This giant body of water began to rumble and shoot up blasting Kiyouri back into a tree. When Kiyouri came too he looked to see that the body of water was becoming a body itself. It was forming the shape of a person. He looks like a normal ninja just that his skin color was unsually blue and he had something that resembled gills on his face (It's Kisame just to point that out! Also he isn't wearing that Akatsuki outfit because this is before i grew up to the time period of shippuden). He has a sword wrapped in medical bandages. Kiyouri knew this was the man that killed his father but where was his mother. As he thought that he didn't realize he had shouted that to the man. He replied with laughter saying that the women he called his mother is no more and he explained in gruesome detail what he did to her. Kiyouri in blinding rage attacked the man to only be captured in some sort of giant ball of water. Instantly he realized that he wasn't breathing air but inhaling water. He held his breathe but knew if he didn't do something he wasn't going to make it so tried using his Jutsu he learned (Katon Housenka) and was capable of getting out of the hold and began to run from this man. He somehow made it out of the forest area and into an ice over grassy plane. Chasing behind hiim was the murderer of his parents. Kiyouri ran but slipped and fell to the ground. Laying there he began to lose consciousness he saw the man's face looking him down syaing, "One day you might come looking for me and i await that day...I'll let you live so that i may actually have a challenge in my old age, hahahaha." Thats the last thing Kiyouri remembered before waking up from his bed.....